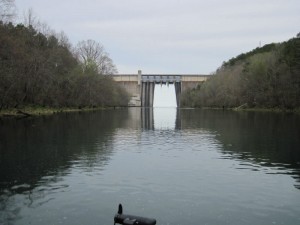 Bo is little worried that his son, Trent, may be developing a Brown Trout Fetish. After a guide trip on Sunday Bo and Trent had a couple of hours of daylight left so the launched the "Stinger Jane II" at JFK Park for a little streamer fishing. As you can see the fish were pretty turned on and Chuck's Chunk in olive and yellow was certainly the hot fly.
Greers Ferry Lake is currently just above the conservation pool at 462.37 and rising slightly due to continued light spring time rains. The generators are still down for repair until 4-24-14, so they are releasing 2200cfs through the spillway gates making a good river level for streamer fishing.
If you need to feed your Brown Trout Fetish just give us a call book your streamer trip with Empty Creel Fly Fishing Guides and Outfitter.
"Life is Good on the Fly!"