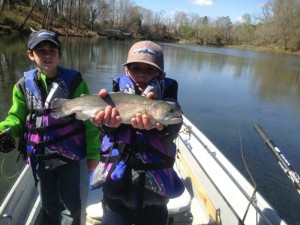 Today we got a glimpse of the future of fly fishing and it is pretty exciting. We had the pleasure of fishing with Hunter and Patrick from Tyler, TX, and they are hard core fly fishermen. In Patrick's short fly fishing career he already has a Bonefish brought to hand in Belize! Both guys do a lot of bass fishing on fly in their home state.
The weather was a little cool with the wind howling 20mph, the water up a bit and slightly off color due to the previous evenings rain so the conditions were not ideal. Regardless those guys fished really hard all day long and were duly rewarded with a bunch of nice, fat Rainbows taken on pink San Juan Worms, RG/PT Cruisers and #14 Chronics.
Guess what? There were no cellphones in the boat, just a wonderful day of fly fishing with two really polite, smart, and eager to learn great young men. The guys learned a little roll casting and few other techniques they can use on their next fly fishing trip. Obviously the future of fly fishing is in good hands. What else can you say?
"Life is Good on the Fly!"