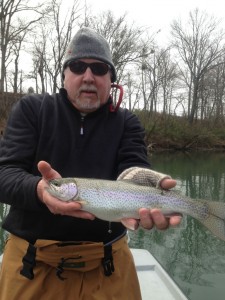 Ric McNulty is the "Peacock Bass Guru." He has made more than a dozen trips to the waters of the Amazon and Rio Negro Rivers, in the jungles of Brazil, fly fishing for the ferocious Peacock Bass. Bo first became acquainted with Ric almost fifteen years ago just before his first trip to the Amazon River basin. Ric provided flys and a wealth of great information that helped make Bo's trip with his Father a truly memorable experience. This past Friday and Saturday Bo finally got to meet Ric in person when Ric and his young friend, Cody Barber, joined us to do some fly fishing on the Little Red River.
The stable water conditions on the Little Red River for the past week have resulted in some just silly good fly fishing. With water temperatures at a very cold fifty degrees there is very little insect activity so Sowbugs continue to be the most effective fly patterns. Although Ric had been giving Cody casting lessons for a while, this was Cody's first fly fishing trip. Cody is a wonderful young man and an accomplished outdoorsman and he is now our fourth first timer of the year to catch his first fish on a fly. However, he did a lot more that just catch his first fish on fly. Don't think we have ever had two anglers catch that many trout over two days of fly fishing. We did not catch a really big fish; but the numbers were really impressive and there were several slot fish. Late on Saturday we did see a few March Browns and Ric was able to get hooked up on a March Brown emerger which is good sign for the spring season.
Bo and Ric are putting together a hosted trip to Brazil for Peacock Bass in January 2015, so if you would like to join us on a jungle river adventure with big rods, big flys, and Big Peacock Bass give Bo call a 479-459-7071 and let Empty Creel Fly Fishing Guides and Outfitter arrange your trip to Brazil. Also, be sure to check out Ric McNulty's website at www.flyfishing4peacockbass.com. Sure hope Bo will take his loyal Yellow Lab, me, along on that trip!
"Life is Good on the Fly!"