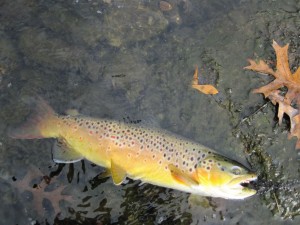 There is an ice storm coming in today; but yesterday it was seventy-seven degrees and the wade fishing on the Little Red River is about as good as it gets! Admittedly it is difficult to take good photos when you are fishing alone, especially without a net, but these photos are typical of the fish Bo caught yesterday as we just decide to go wade fishing. We probably waded three quarters of a mile and there are a lot of nice fish moving around as the Brown Trout spawn is in full swing. Bo took most of the fish on his special #14 "Goins Gold" soft hackle fly.
We had a great day and really enjoyed watching a couple of really big females on their spawning beds. As a reminder, please watch where you wade and don't disturb fish on their spawning beds as they are the life blood of our rivers.
Happy Holidays to all and hope to see you soon.
"Life is Good on the Fly!"