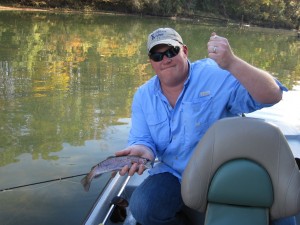 The past few weeks have been very busy and we have not done too good a job of updating the website. We have had lots of anglers join us on some really fun trips. We have enjoyed clients from Houston, TX, New York City, Atlanta, Ga, and even good old Little Rock, AR, just to mention a few. Our weather has been delightful with absolutely beautiful fall colors.
There has been virtually no water releases from Greers Ferry Lake since October 15th, and as a result the Little Red River is dead low and gin clear and quite honestly the fishing has been challenging. However, our clients have all caught fish and judging from the smiles below they have had a good time!
We have some rain in the forecast next week and much cooler weather is on the way. All this may prompt the Brown Trout to move into their spawn mode. The changing weather will also likely get the Hybrid fishing on Greers Ferry Lake into full swing and we are planning to be on the lake some next week. Hope you will join us on the water soon!
"Life is Good on the Fly!"