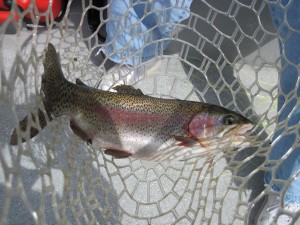 Jean is in the process of relocating from southern California to State College, Pennsylvania, and stopped off yesterday to fly fish with us on The Little Red River. We found out vey quickly that she was a very experienced fly angler. Bo handed her one of our guide rods and she looked at it and said, "Oh, you build your own leaders."
Due to the storms we had earlier in the week the river was high and a little off-color so we started with some streamers and pounded the banks for about an hour to no avail. We then switched to a nymph rig and drifted a variety of different flys and it was still slow fishing. After lunch the fishing really picked up and Jean caught some really nice slot Rainbows, most of them on a #14 smokey olive Sowbug. We had to fish tight to the cover and make a really good drift to get a take; but Jean is a really fine fly fisher and she was up to the task.
When she gets settled in Pennsylvania we may have to make a trip out there and fish some spring creeks with her!
"Life is Good on the Fly!"