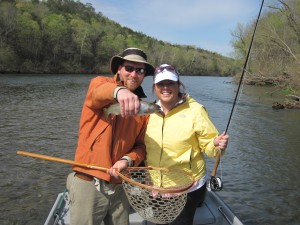 On Saturday Maggie and her husband, Chris, joined us for their first ever fly fishing adventure. They had never cast a fly rod nor seen a trout fly. The Norfork River offered up some good water conditions and it was a beautiful spring day for some fly fishing lessons. Chris had watched some fly casting videos on YouTube and with just a little instruction from Bo he was hooked-up on his third cast.
After a nice river lunch Bo rigged the rods with a new fly he calls "Trout Candy" and both anglers got on some serious numbers. At the end of the day Chris hooked up a beautiful Cutthroat Trout but we failed to get a good photo. Regardless it was a good way to conclude Chris and Maggie's first day of fly fishing.
Does Maggie look like she had any fun catching her first trout on fly?
"Life is Good on the Fly!"