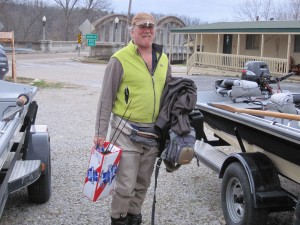 You have to love a maniac fly fisherman from Connecticut that comes fly fishing to the White River in Arkansas wearing a chartreuse fleece vest and carrying a Pabst Blue Ribbon 24 pack box as his rod case! These guys are way cool!!
Bo and his good friend, Tom Hawthorne of The Ozark Angler, had the pleasure of guiding four "Connecticut Yankess," Tommy, Dave, Ed and Adrian for three days this week on the White River. The four anglers are great friends and have been making trips together for many years and they can all flat ass fish!! The weather was cold, the wind howled and the water levels were like a yoyo; but the boys just kept firing streamers and as you can see they hooked up some Browns like the one Dave has in the photo below.
With the tough conditions they had to deal with this was one of those trips that was not all about catching fish. These good friends enjoyed seeing a new river, learning about the fishery, the history of the area, comparing tying techniques of big streamers, reliving many other great fly fishing trip adventures and making some new Arkansas fly fishing friends. It is people like these "Connecticut Yankees" that make fly fishing such a wonderful way of life. Hope they will be back to fish our rivers again and I would not be surprised to see Bo and Tom make a trip north to chase some Stripers with their new friends from Connecticut.
"Life is Good on the Fly!"