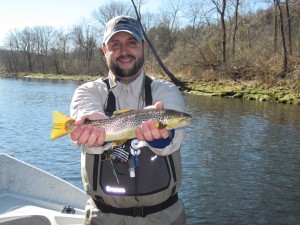 What a great start to the Christmas holidays! Bo and his son, Trent, decided to spend the weekend before Christmas fly fishing the White and Norfork Rivers. As luck would have it they turned on one unit of generation on the Norfork River early Saturday morning. The boys put the drift boat in the water and with their friend and fellow river guide, Ben Levin, on the oars the big streamers got fired up. Bo quickly caught two White Bass and a nice Striper up near the Norfork dam on a Chuck's Chunk. Trent's first fish was a beautiful Cutthroat on a Sex Dungeon. This was Trent's seventh day of fly fishing and his first with a six weight streamer rod and a 250 grain sink tip fly line. He also quickly caught his first Brown Trout on a fly so the Christmas fly fishing weekend was off to a terrific start! The guys spent the rest of the morning casting big streamers and took several nice Brown Trout on big white Rouse Poodle flys along with numerous Rainbows. Maybe the best thing about the day is that we saw only one other angler on the river the entire day which must be some sort of record for a day on the Norfork River.
Check out the photo of the tracks below that we saw on an island in the Norfork River. Do you know what kind of tracks are in the photo below? If so drop us an email at info@emptycreelflyfishing.com.
There was no generation anywhere on Sunday so the boys decided to go wade fishing on the White River. They started at Three Chutes and soon got into a bunch of fat Rainbows on RG/PT Cruises, Goins Gold Soft Hackles, small, olive, #10 Woolly Buggers and the old stand by egg pattern with a #18 Ruby Midge dropper. When the fishing slowed they moved down river to Wildcat Shoal with similar results. After a warm lunch and a cold adult beverage they spent the afternoon at Roundhouse Shoal where Trent got a shot at sight fishing to a true trophy Brown Trout. Trent made a couple of good casts and beautiful drag free drifts right to the big Brown only to have the fish move off and refuse his fly. Those trout don't get that big by being dumb!
Many thanks to Ben Levin who was our host for the weekend. Bo was with Ben on his first saltwater trip to Mexico when Ben was just a young teenager. Ben is one of the best guides on the White River system and a true expert at targeting Smallmouth Bass. He is also a good friend! I think Ben and Trent already are planning a duck hunting trip together.
There are more photos of our Christmas fly fishing weekend in the "On the River" album in the photo Gallery. The next few months should offer some great winter fly fishing solitude so give us call and book a trip with Empty Creel Fly Fishing Guides and Outfitter. Merry Christmas and best wishes for a Healthy and Happy New Year to you all.
"Life is Good on the Fly!"