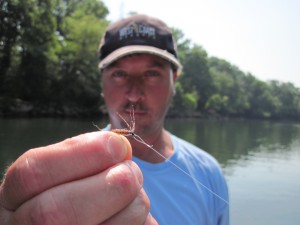 Bo spends quite a bit time developing new flys and he has been working on a new soft hackle fly for a couple of weeks. Last Saturday he decided to let one of our clients try out his latest new fly. We were on the Little Red River fly fishing with Tobb from Mississippi, and his buddy Kurt from Tennessee. Bo tied the new fly on for Tobb and he hooked six Rainbows Trout on six consecutive casts! (Looks like Bo has winner) Well you know what came next, Kurt also wanted to try the new fly and for the next hour and a half Tobb and Kurt had a big time. Unfortunately Bo had only tied up three of the new flys and boys managed to loose all three flys; but we all had a great time.
Now, every fly has to have a name, so Bo decided it was a great idea to name the fly for the first client to fish with it. "The Tobb Fly" is born!
If you want to learn more about The Tobb Fly and even have an opportunity to fish it just book a guide trip with Empty Creel Fly Fishing Guides and Outfitter.
"Life is Good on the TOBB Fly!"