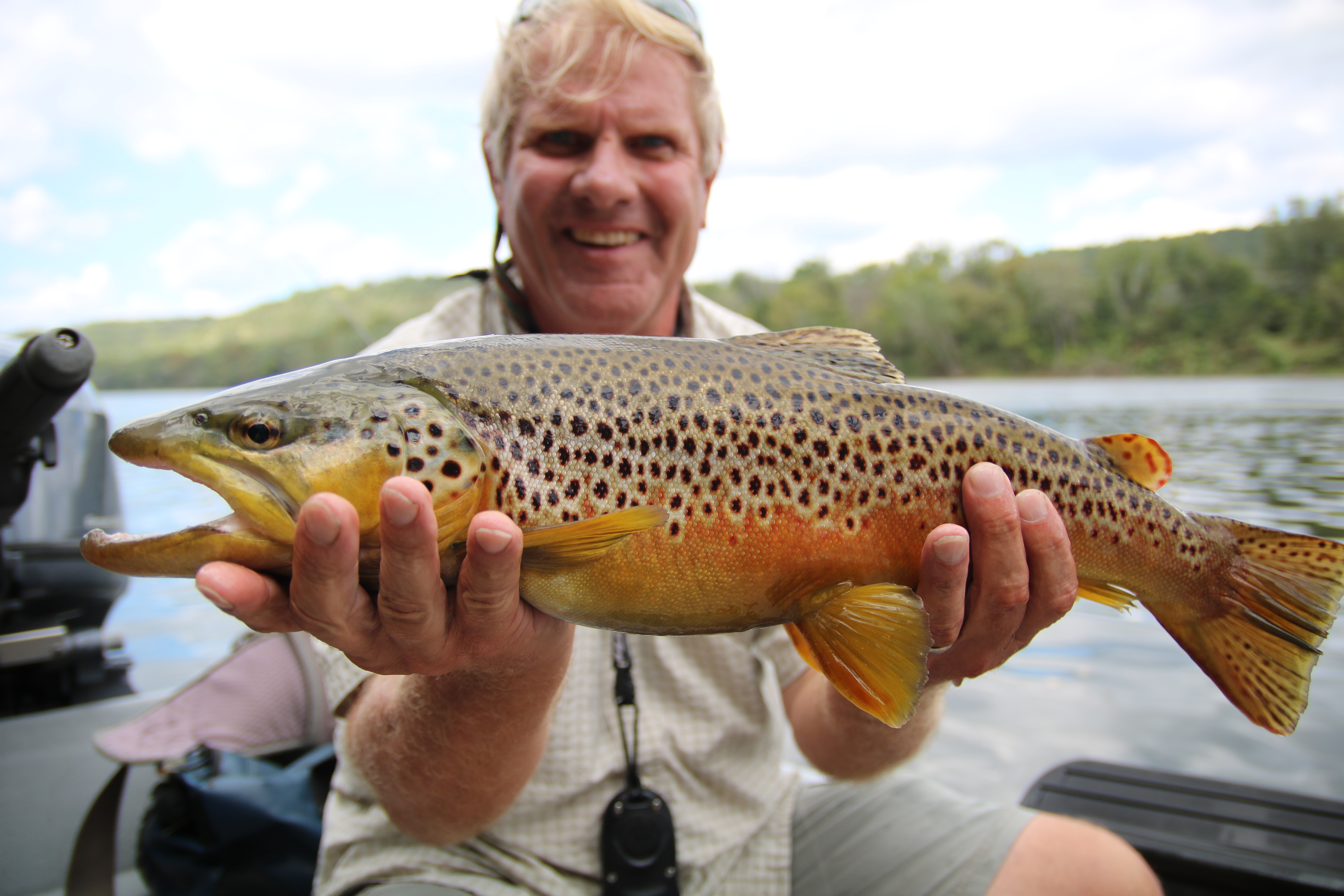 Getting Schooled
10-4-2018
I was feeling pretty good about my fly fishing after returning home from and extended trip to Montana. I had caught a bunch of great fish on multiple famous western rivers in various weather conditions and using a variety of techniques. I feel like I am a pretty good stick.

Yesterday I had the great pleasure of getting to fly fish the White River here at home with my very good friend Chuck Farneth. In 2001 Chuck won the first ESPN Great Outdoors Fly Fishing Competition and he is without a doubt the best fly caster and fly angler that I know and there can be a huge difference in the two categories.
It was a beautiful day but the wind howled all day long at 20-30 mph. My shoulder is still bothering me a little from helping load a big raft on a trailer earlier this summer in Colorado so we decided to use the trolling motor on the boat in order for both of us to streamer fish at the same time. It was obviously difficult to keep the boat safely under control and in the proper positions. I did not seem to be making very good casts and was not getting my fly to my intended targets. My retrieves seemed to be at the wrong angles and not producing any responses from the fish. On the other hand, Chuck was catching quite a few fish. I just sat back and watched him fish for a while.
Everything seemed to slow down. Chuck carefully picked his targets and took his time making very deliberate and controlled casts with nice tight loops. The result was a good number of fish to the net in very difficult conditions. I learned a lot just watching. Obviously boat control is important and in windy, or high water, conditions. One person should be doing nothing but controlling the boat with either the trolling motor or preferrably the oars. Next slow down! Get your fly line and your casting stroke under control. make fewer casts to targets most likely to hold a fish.
Once I settled in I managed to catch a few fish and I certainly learned a few things that will help the next time I fish similar conditions. You can learn something every time you are on the water and it is gratifying to catch fish in tough conditions.
"Life is Good on the Fly!"
Bo