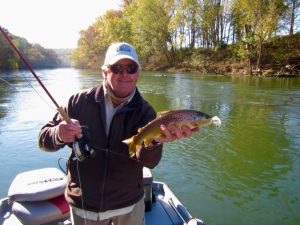 We are having some beautiful fall weather with some periods of high generation creating some high water windows and some super streamer fly fishing. Yesterday was one of those high water windows so along with good friend, George Born, we headed way down river to sling some meat. Believe it, or not, we got eaten up by mosquitos as it was quite a warm fall day. The water was beautiful and the trees are really starting to show their fall colors. We have had a some amazing weather as it feels more like spring than the middle of November.
Anyway, we did not have a real big window of high water so we showed the fish a bunch of different streamers in pretty quick succession and we definitely got some takers. White streamers got the most attention and Rouse's Poodle Fly proved to be the best pattern which is what is in the face of the Brown Trout in the above photo.
Hopefully we will get some much needed rainfall to give us some additional water for some great post spawn winter streamer fishing. In the meantime we will keep jumping on these high water windows and just enjoying a really wonderful fall season.
Happy Thanksgiving to all.
"Life is Good on the Fly!"