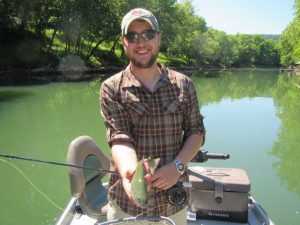 Dylan and Jordan are both medical students at UAMS and this past weekend was their first venture into fly fishing. On Saturday morning we spent a little time working on knots and introducing the guys to rigging rods and doing a short casting clinic. Then it was off to the river.
The water was low and really off color from all the spring rains which required a really good drag free drift to get trout to take a fly. It took some time for both anglers to get used to mending the fly line to achieve a good drift. The Caddis hatch seems to have run it's course, at least for now, and with no insect activity we had to go through a bunch of different flys to finally find the right bug. Within a short time both Dylan and Jordan were hooked up to their first Little Red River trout and they now have the fly in their fly fishing hat to prove it. As the day progressed the guys each caught a few Brown Trout and several Rainbows.
Dylan and Jordan both graduate from medical school later this spring and then have to make decisions about choosing a medical specialty. Once that process is completed they will hopefully be back on the river to continue their fly fishing education.
"Life is Good on the Fly!"