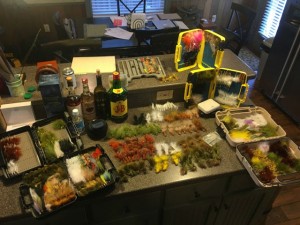 It is a tough job trying to figure out which streamers to take to Chile. Next month we are again headed to the Patagonia Region of southern Chile for some serious streamer fishing as well as the huge beetle hatch that occurs during the early summer. January is early summer in Patagonia but it is nothing like summer here in Arkansas. It is more like summer in Alaska with average highs in the upper sixties and lows in the forties. Our base of operations will again be Cinco Rios Lodge, (www.cincorios.com), which sits high on a bluff above the Rio Simpson. This beautiful river also gets a run of King Salmon each summer and yes we will chase these Pacific Salmon as well. The top photo shows the view of the Andes Mountains and the Rio Simpson from the back deck of the lodge. We will try to put up some posts on Facebook while we are there next month.
Unfortunately we have not done a real good job the past several weeks of posting fly fishing reports or photos as we have had some camera problems and have just been plain busy. As you can see in the photo on the left, the flood gates are open and we have had very high water due to all the fall rains. However, we have continued to catch some really nice fish and we have had simply spectacular fall weather. Greers Ferry Lake is now within about a foot and a half of the conservation pool so if we do not get too much more rain this weekend we will hopefully see some lower water fairly soon. In the future we will do our best to get timely reports on the Caddis Report.

By the way, the Trumpeter Swans are back on Magness Lake and it is certainly worth a trip out there to see these beautiful birds.
Merry Christmas and Happy New Year to all!
"Life is Good on the Fly!"