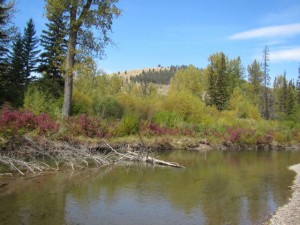 Monday, 9-14-15, was our transfer day from the Missouri River in Craig, MT., to Missoula, MT. This was also Trent's birthday and it turned out to be a very special day.
Montana state highway 200 runs along the Blackfoot River for nearly sixty miles on the way to Missoula, MT. There are may places along the route that offer public access to the Blackfoot River and we took full advantage of the those opportunities. Along with Tom Hawthorne, the Ozark Angler, and Bryan Dobbins, who owns The Woodsman Company, in Fort Smith, AR., we stopped at several different areas on the Blackfoot River and just made a day of wade fishing a really beautiful river. By the way, this is the river profiled in the great movie, "A River Runs Through It."
At one particular spot Bo pointed out a stump to son Trent and told him to drift his #10 Amy's Ant down the inside seam coming off that stump. The fly had not drifted four feet when this beautiful Westslope Cutthroat Trout slammed the ant. Your first Westslope Cutthroat could not be a better birthday gift for the birthday boy and his proud dad.
At the end of the day the three amigos from the left, Tom Hawthorne, Trent Goins and Bryan Dobbins wade out of the Blackfoot River. From there it was on to Missoula, MT., and a great pizza restaurant on the banks of the Clark Fork River for Trent's birthday dinner.
"Life is Good on the Fly!"