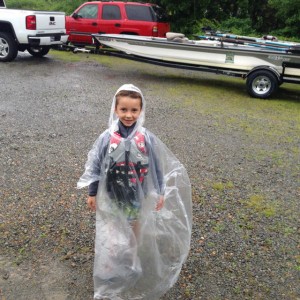 On Sunday we had the pleasure of guiding first time fly fishers Alex and Gonzolo from Monterrey, Mexico. As you can tell from the photos the weather was absolutely terrible and the water levels on the Little Red River were high and the water stained from all of our continuous spring rains. Alex is only ten years old while Gonzolo is seventeen and preparing for a foreign exchange trip later this summer to Canada.
Anyway, these two were gun-ho to learn about fly fishing and in spite of the rain they hung in there all day long and very quickly both young men had their first fish on fly to the boat. Once that was out of the way it was all smiles and laughs for the rest of the day as we were able to stay ahead of the water release and continue to net some nice Rainbows. Top two flys of the day were #14RG/PT Cruiser and #14 Born's Hairy legged Sowbug.
At the end of a long, wet day these two wonderful young men were on their way home with the flys that they caught their trout on as well as a some photos to prove the case!
"Life is Good on the Fly!"