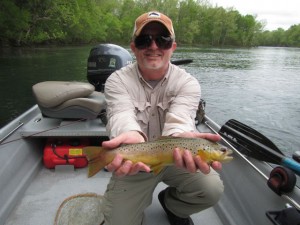 Larry is from Quincy, IL., and he has fished the Little Red River numerous times but it has always been wade fishing trips on low water. Yesterday was his first time drift fishing on high water. With all the spring storms and rain the past few weeks Greers Ferry Lake is about four feet above the conservation pool and the COE has been basically running one generator around the clock. That coupled with all the natural run off coming into the river there is about an extra half a unit of water going down the river although the water is quite clear.
With an overcast sky we decided to get out the big fly rod and give some streamers a try. Casting big streamers on a sink tip fly line was also something new for Larry but it did not take him long to figure out the proper techniques and he was firing the big streamers up against the river bank getting several early chases. After missing a few hook ups Larry figured out the strip set and as you can see in the photos above he got some nice Rainbows and Brown Trout to the net. Top streamers of the morning were the Chuck's Chunk as well as Rainy's Poodle.
After a lunch of grilled brats on the river bank the weather as usual made another change and the sun appeared and the temperature went up quickly. The bright sunshine turned off the streamer bite so we made the switch to the nymph rig. Larry hit a couple of Rainbows quickly on a #14 Original Ebby but as we moved down river the bite again slowed. We finished the day drifting Bo's Missouri River Worm picking up a few more Rainbows.
The river levels should remain about the same until the levels of the White River drop in eastern Arkansas so the farmers can get their fields planted. At that point expect the generation to ramp up and that should improve the streamer fishing. If you would like to try our streamer techniques give us a call and book a trip with Empty Creel Fly Fishing Guides and Outfitter.
"Life is Good on the Fly!"