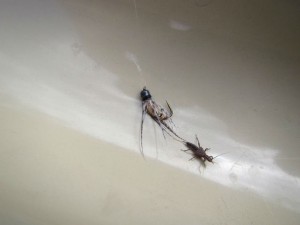 On Monday we did a little exploratory trip on one of the very lowest sections of the Little Red River looking for a March Brown hatch. Early in the float Bo picked up several Rainbows on #14 Gray Flashback Sowbug and #14 Original Ebby. About 10:00AM we saw our first March Brown Mayfly in the air. There were not many and we did not see any fish rising but Bo tied on a #14 March Brown Emerger and on the first cast the fly did not drift ten feet before a fat Rainbow chowed down! The rest of the float was just one fish after another and it did not matter if Bo dead drifted the fly, fished it on the swing or simply fired it up close to the bank and stripped it back as the fish were really keyed in on these emergers.
We actually found a March Brown nymph on the gunwale of the drift boat which you can see in the top right photo along with the fly Bo ties for a March Brown Emerger. As you can see in the bottom right photo, the lower Little Red River looks a lot like the old Smallmouth Bass river that it was before Greers Ferry Dam was built in the early 1960's. It is really a beautiful section of river with many huge Cypress trees and cypress knees all along the river bank.
Over the next couple of months the March Brown hatch should get more prolific and the dry fly fishing for Brown Trout should be fantastic. If you would like to fish the March Brown hatch book your trip with Empty Creel Fly Fishing Guides and Outfitter as our late winter and early spring dates are filling fast.
"Life is Good on the Fly!"