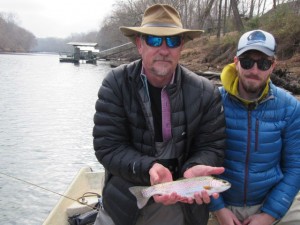 Saturday we had the pleasure of doing a father and son trip on the Little Red River with Richard and his son, Matt, and we had a beautiful winter day for the trip. Matt is a big time rock and ice climber and he lives in South Korea where he teaches English at a university. It was really interesting to learn about the students and the culture in South Korea.
With very stable water conditions the fishing was red hot and even though this was Matt's first time with a fly rod he released an amazing number of rainbows. It was only three flys all day, #14 RG/PT Cruiser, a #16 Gray Flashback Sowbug and a #18 Zebra Midge. We grilled some delicious brats on the river bank for lunch and just enjoyed a beautiful February day.
O yeah, the "Dunn Drift?" Bo cannot really explain it, and not sure that he can actually execute it; but it flat out works. If you want to give it a try give us a call at Empty Creel Fly Fishing Guides and Outfitters.
"Life is Good on the Fly!"